A crumble is a delicious dessert that can be part of your Christmas menu. It's a very easy and quick dish to prepare. You can make it in advance and warm it up at the last minute, as it should be eaten warm. You can easily double the portion if you are hosting a big group.
Apples and pears are fall/winter fruits so they should be very tasty and juicy at this time of the year. For this recipe I recommend the kind of apples/pears that melt when baked. I suggest Boskoop, Reinette, or McIntosh for the apples (if you can find them!) But don't worry if you don't find these specific ones, just choose the ones that stay the least firm.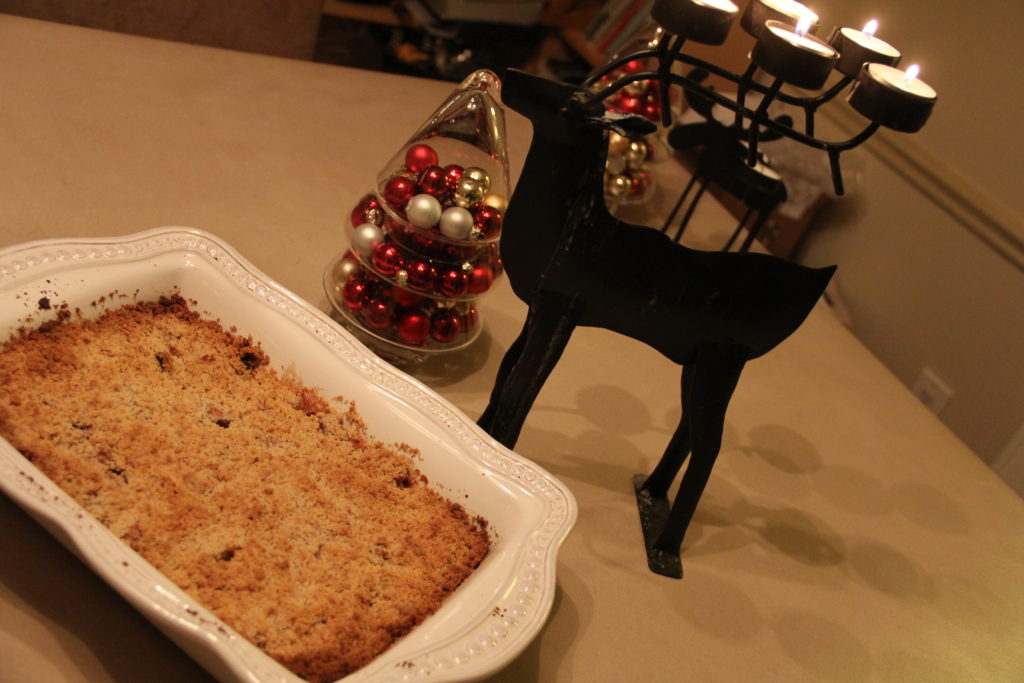 ---
Prep Time: 30 minutes
Cook Time: 1 hour
Serving: 8 people
Ingredients:
125gr (1/2 c) flour
125gr (1/2 c) almond powder
125gr (1/2 c) butter
100gr (6 tb) sugar
5 apples
3 pears
10gr (1 tbsp) cinnamon
50gr (1/4 cup) raisins
25gr (2 tbsp) brown sugar
---
Preheat the oven to 200ºC or 400ºF. Start peeling the apples and the pears. Cut them into 4 and remove the core. Dice them into 2 cm (3/4 of an inch) cubes. Put them in a big bowl with the raisins and sprinkle with cinnamon. Toss the bowl with your hands to mix the fruit and coat all the cubes with the cinnamon.

In a big bowl, pour the four, the almond powder, the sugar, and the butter cut in pieces. With the tip of your fingers squash the butter with the other ingredients. Keep doing so until all the ingredients are mixed together, resulting in pea-sized lumps. Don't use your palms – this will flatten the dough and ruin the crumble.

Use a dish that can go in the oven; cover the bottom with the brown sugar and poor the fruit mix. Shake the dish gently to even the layer.

Top the apple/pear mix evenly with the mixture and bake for an hour.

The topping should have a golden brown color and the fruits all soft, bubbly and warm. The combination of the crispy dough and the softness of the apple/pear mix is a delight for the palate.

Serve a portion with vanilla ice cream or fresh cream, whipped or liquid is just perfect!
Bon appétit and Happy Holidays! I wish you all a Merry Christmas and a very Happy New Year!