Bangkok – Part 1
Restaurants
I just came back from my trip to Bangkok and my head is still spinning with all the exotic flavors and aromas. The street noises, traffic, tuk tuk rides, lingering odors, colorful sceneries, and magnificent temples stimulated all my senses. A week in this busy city with a population of 8 million people can't be forgotten even after a draining 23-hour flight and 12 hours of jetlag.

During my trip, I mainly stayed in Bangkok but also visited Ayutthaya and the Damnoen Saduak floating market located outside of the city. It wasn't my first visit to Thailand but each time I enjoy it and discover new aspects of the country. A blend of culture and culinary experiences highlighted my journey. Restaurants, markets, bars, street food… so many things to share with you! Let me start with some of the restaurants I tried in Bangkok.
@ Damnoen Saduak floating market
Gaggan's menu is a poem that cannot be summarized. I will devote a full blog post to present you Gaggan Anand.

Nahm was Ranked 37th in the World's 50 best restaurant in 2016. Chef David Thompson is Australian, but he is a master of Thai cuisine. His long-lasting love affair with Thai food started many years ago while visiting Thailand. He creates his menu based on very traditional Thai cuisine and adds his knowledge and creativity to deliver exquisite dishes with new flavors and tastes. The presentation of each meal is beautiful and attractive.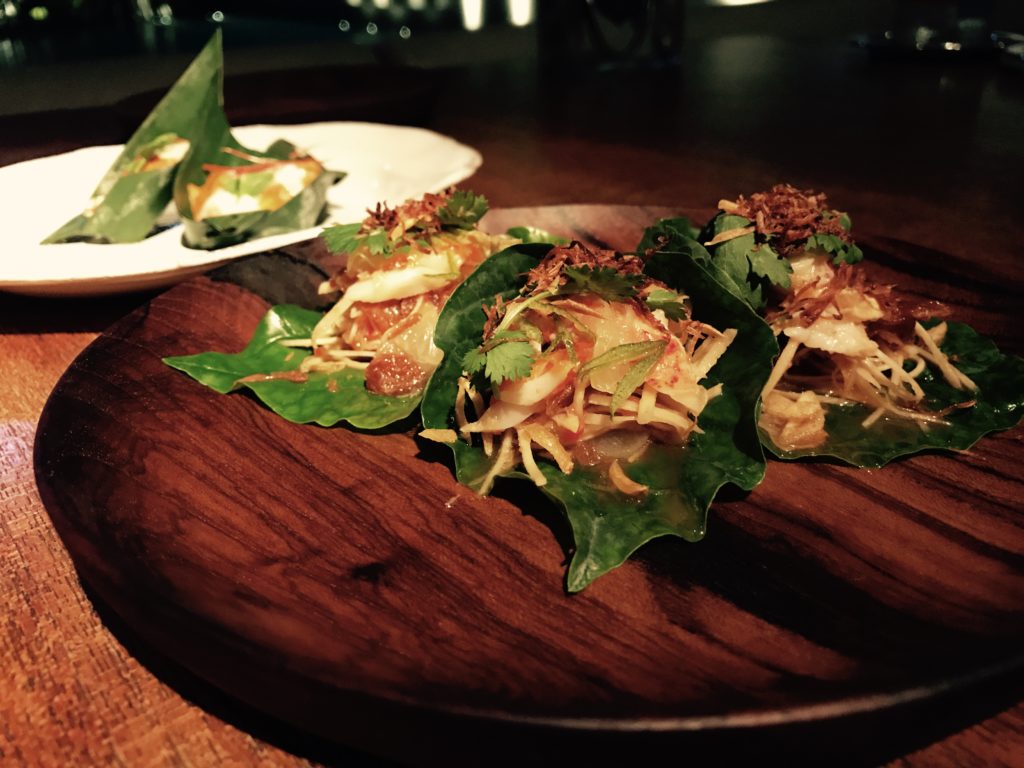 For our dinner, we ordered the set menu for BTH2500 per person ($71 – €67), but à la carte is also available. I loved the décor outside by the pool; it was so peaceful and relaxing.

All the dishes are quite spicy, some more than others, but be aware, you can't have non-spicy food.
Metropolitan Hotel
27 South Sathorn Road
Bangkok 10120
Thailand
📞 +66 2 625 3388

Terrace Rim Naam is located on the other side of the Mandarin Oriental hotel on the Chao Phraya River. The enjoyment of the evening starts on the boat while crossing the river. The outdoor setting is magical and the view is fabulous on modern Bangkok's high-rises. They serve a large range of authentic Thai dishes from all over the kingdom. We ordered several dishes: pomelo salad, duck, sea bass, pork, soup with mushrooms… everything was absolutely delicious!

48 Oriental avenue
Bagkok 10500
Thailand
📞 +66 2 659 9000
The Jim Thompson House is now a museum but was initially the house of the American architect Jim Thompson who moved to Bangkok during World War II. A very interesting visit to consider during your stay in Bangkok where you can discover this beautiful property and his personal art collection.

At the entrance, there is the Jim Thomson restaurant, where we had a Thai lunch in a very pleasant environment. It's of course touristic but you eat real Thai cuisine and it's part of the whole Jim Thompson House outing. We ordered fresh coconut drink and lemongrass drink, pomelo salad, green papaya salad with shrimp, phad Thai, and sticky rice with mango for dessert.

Soi Kasemsan 2,
Rama 1 Road
Bangkok 10330, Thailand
📞 +66 2 612 3601
Toh-Plue
Toh-Plue is located in the heart of Bangkok's Chatuchak market and serves authentic and flavored Thai food at very good price. If you don't dare to try street food, this is a great option – it's a colorful and animated restaurant with an interesting décor.

Pineapple fried rice and Tom Yum Kung in pumpkin carve beautifully presented, and of course the unmissable fresh coconut drink with your country's flag. (they asked the country where we came from).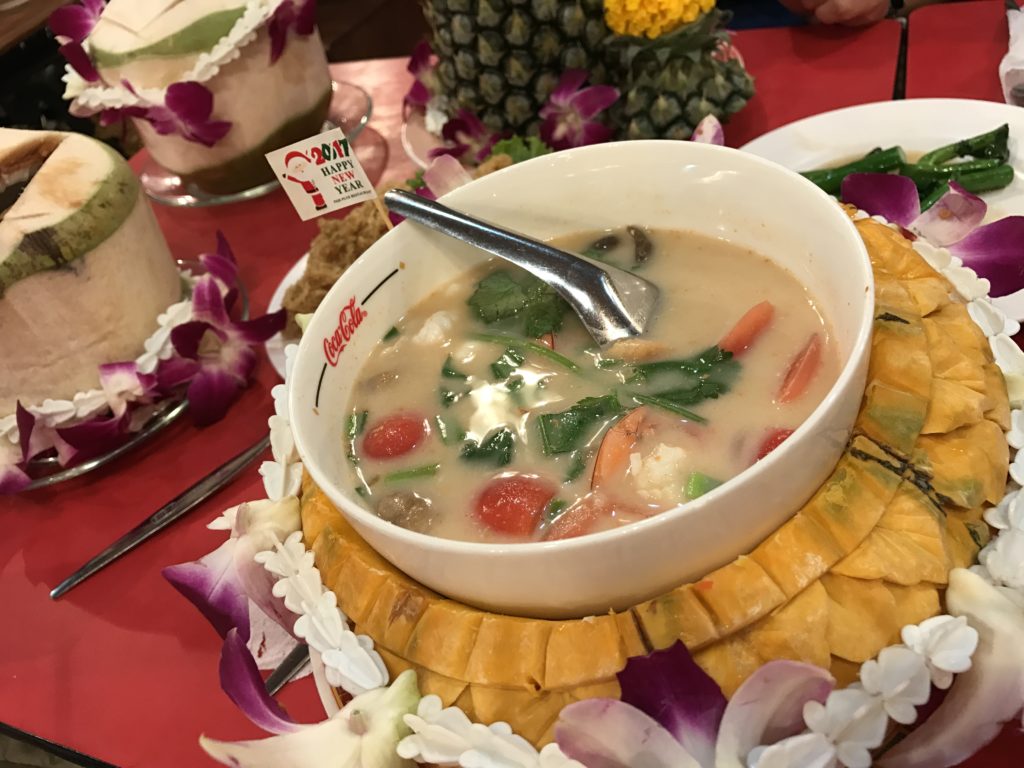 Chatuchak market,
Bangkok 10900,
Thailand
Viva 8
Viva 8 is a funky and animated bar in the middle of Chatuchak market. It's an outdoor bar with a DJ where people listen to music, drink, and eat gigantic paella in a very laid back atmosphere.

If you are a bit tired of Thai cuisine and you need some comfort food, this Italian restaurant is perfect for you. There is an outdoor space, but if you prefer AC you can sit inside the establishment. There is a wide variety of pizza and pasta to choose from.

We ordered the Nduja, sardine & Burrata, and the parma & stracciatella pizza. Ravioli and funghi proini and Mango flan and cannoli for dessert.

South Sathorn 139/3
Soi 7 bangkok, 10120
Thailand
📞 +66 2 286 8805
Amantee, which means a peaceful space, is a bakery opened by Gilles Sandre and Benoit Fradette in 2014. I was completely astounded when I saw the croissants and the pains au chocolat on the table for breakfast – I wasn't expecting that in Bangkok! They were absolutely delicious. I really wanted to visit this place, and when I entered the bakery the smell was divine and so comforting. They sell a good variety of breads and pastries and they are all made on site.

Everything in this store is tasty and reminds you of the bakeries in Paris: the pain au raisin, the pain au chocolat, the fougasse, the bure du prêcheur, the financer, and I can go on and on…

2240/12-1 Chan Kao road Chongnonsee
Yannawa – Bangkok 10120
📞 081-814-0920
Street food

Street food is by far the most authentic and cheapest Thai food you can find, it's also the best way to connect with local culture. It can be intimidating and even frightening for foreigners who are not familiar with Thai ingredients. Some are hawkers on the streets or at the markets, some have tables and chairs on the sidewalks, and some are on boats on the river (e.g. at the floating markets). I tried a few things, both sweet and savory, and while I can't tell you what I ate, it was all very good!
 
To end this post I just want to talk about the cooking school I went to. I know many of you like to try at least one culinary experience. I highly recommend this school; it's very professional and very friendly at the same time. We started with a visit at the local market to better understand the ingredients we would use, and then moved onto a hands-on session where we cooked four different dishes: Pomelo salad, Chu Chee curry with prawn, chicken galangal in coconut cream soup, and sweet sticky rice with mango.

After the cooking session we all enjoyed the lunch we prepared, chatting and getting to know our classmates!

31/11 Silom S0113
Silom Road, Bangkok 10500
Thailand
📞 084-779-8066