Dons Bogam

is an interesting combination of Korean BBQ and wine bar in the middle of
Koreatown

. The restaurant has a very modern and chic décor where you can sample a wide range of Korean foods. The façade is made of glass rectangles framed with metallic supports, allowing you to see the atmosphere inside the restaurant.
There is a bar at the entrance where you can enjoy a glass a wine. The restaurant also offers wine tasting for events.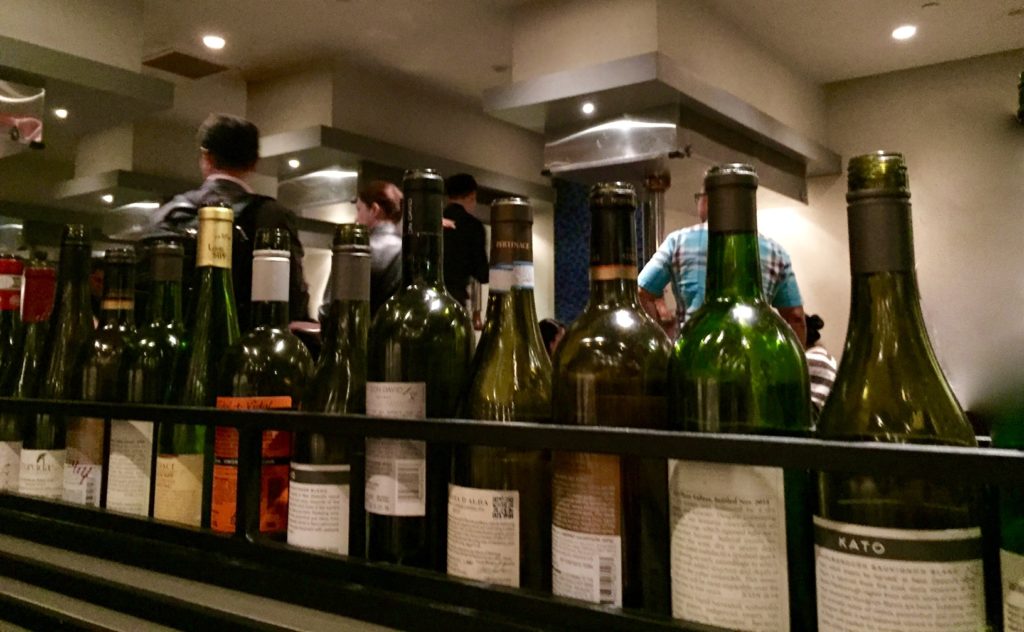 We were seated at the floor level; luckily, there was a hole under the table for our feet. The tables are equipped with tabletop grills so you can prepare your own BBQ. The restaurant also has an area with normal tables and chairs if you prefer, but it is less charming.
Chef Woo Kim

started his career in his early twenties. He worked in different restaurants learning Korean cuisine but also Japanese, Chinese and Western. He started at

Dons Bogam

in 2006 where he has developed more accessible Korean meals using authentic recipes. The Galbi (marinated short ribs), the Bulgogi (thinly-sliced beef with glass noodles and vegetables), and the Bibimbap (steamed rice topped with a variety of seasoned vegetables and meat) are the chef specialties.

We were served several small dishes before our order arrived. As soon as we were done, they asked if we needed refills. The service was very pleasant and the server was a very cute Korean young man, attentive and helpful.

We ordered several meals and they were all delicious. The meat was very tasty and the vegetables very fresh.
Tofu salad: chilled tofu and vegetables with dried bonito and yuzu ponzu sauce.

Traditional Korean pancake: Buchu-Gochu-pajeon with chives and green pepper.

Prime beef platter: unseasoned prime short ribs, marinated prime rib-eye and short ribs.
Bibimpap Galbi: steamed rice with marinated boneless short ribs and assorted vegetables.

We ordered a bottle of white wine for aperitif: a Côtes du Rhône – Samorëns 2014.
An Italian primitivo – Pelùna 2014 to accompany the dinner.

Dons Bogam

is an upscale restaurant with great quality of food and wine. You should expect around $70 per person.
---
Dons Bogam
17 E 32nd St, New York, NY 10016, United States
📞 +1 212-683-2200