If you are in Paris, you just cannot skip a trip to the
As of the fallafel

!!!
Whether you like falafels or not, it doesn't matter, it's the unavoidable experience of the Marais. You can buy it as a takeout at the counter outside on the sidewalk or you can get a table inside. And for that, good luck my friend!!
The line for the takeout can sometimes be very long and discouraging. But don't leave, it goes quite fast. The guys in the kitchen are super quick!!

If you go for lunch at noon you can still have some luck to be seated. After that, it's rush hour, and it's packed. The service is quite fast and they don't let you stay and discuss forever. They would gently (or not) bring the bill at your table and look at you with an expression saying good-bye, thank you, come again!!
If you like to sip a cup of coffee after your meal, DON'T EVEN THINK ABOUT IT!
No coffee, no tea, nothing that will keep you seated.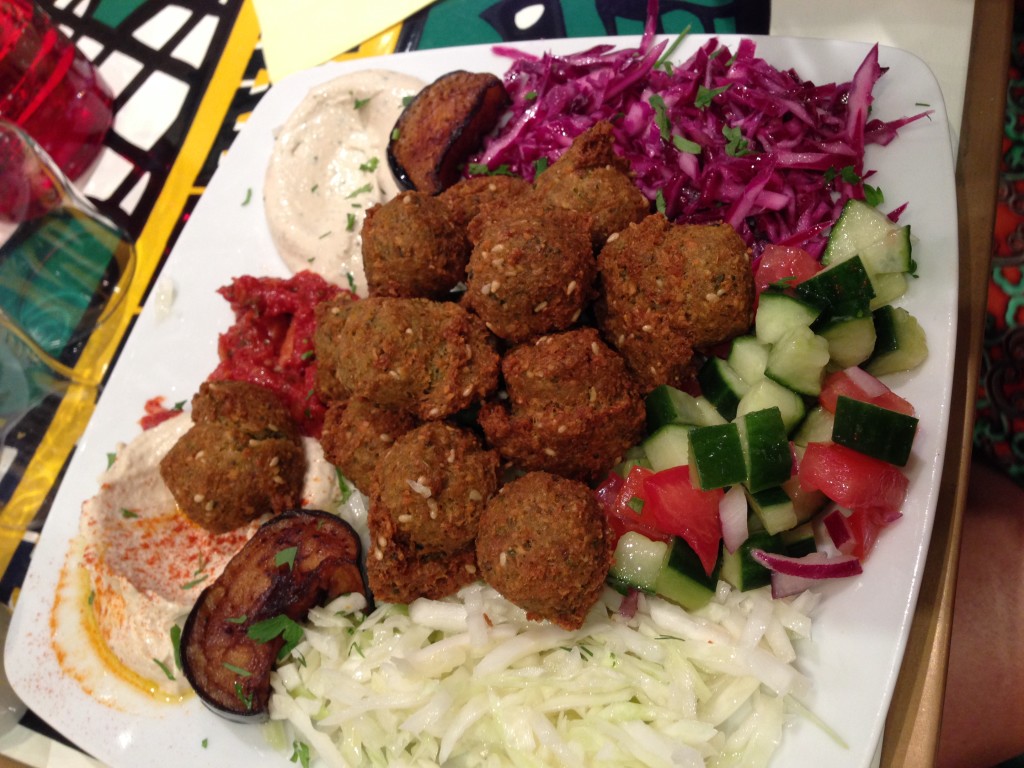 I have to confess, I'm not a big falafel fan. But I heard of it so many times from so many people, I thought I have to go at least once. Let me be a tourist…
So when my friend Marie-Helene suggested going to L'As du Fallafel because we were in the area, I immediately jumped on the occasion. Yesss, let's try it, finally!!!
We arrived on time to have the last 4-person table. The table was so close to the 2-person table next to us that we felt like we were eating with the neighbors. The décor is very simple. It's all part of the charm I guess. The servers were very fast to bring the menus and take our orders. Falafel sandwich, falafel salad, Shawarma sandwich, or Shawarma salad, pick one and stick to it.


I ordered the
falafel sandwich

, not that I love the messy food but if you want to eat falafel, eat it right! The falafels are small crunchy balls mixed with lots of cabbage. They put fried eggplant in the bottom of the pitta bread, I think this is the part I liked most. Onions, cucumbers, turnip pickles, and a good quantity of sauce! The overall product is delicious, and you have plenty enough for a meal.
I don't know why L'
As du Fallafel

is so famous but I really recommend that you try it at least once. Tourists or not, Parisians or not, you will NOT regret it!!
---
L'as du fallafel
32 Rue des Rosiers
75004 Paris