Love love love this restaurant! Kaikaya by the sea is a busy, fun, loud, crazy restaurant in Tokyo's
Shibuya Ward

with absolutely delicious food!
The walls are decorated with all kinds of frames – small, big, medium-sized representing life at sea. The walls are covered with thousands of pictures of people who have come to this restaurant, a big canoe hangs on one wall, and kitchen utensils have been nailed up to complete this eclectic décor.

Foreigners, Japanese, Gaijin (non-Japanese living in Japan), all eat at this restaurant and it's always packed. The restaurant is divided in two parts: one for smokers and one for non-smokers.

Kaikaya by the sea is an izakaya-style Japanese restaurant located in
Shibuya

, a very busy area for stores, restaurants, and bars. As the name implies, it is mainly a fish restaurant but you can eat meat as well. There are three prices to choose from – ¥1800 (15€ or $17), ¥3300 (28€ or $30), or ¥4300 (36€ or $40) – and the feast begins.

A succession of colorful and amazing dishes parades one by one in front you. Each dish is unique and tempting.
Dinner starts with the grapefruit cocktail. Apparently it's with alcohol but I didn't really taste it; I preferred to switch to Saké.

A shrimp dish followed by fish carpaccio – excellent quality of fish.

Shrimp beignet.
Fantastic plate of sashimi.

A slice of daikon that looked like my friend's ring; I thought it was quite funny.

This dish was phenomenal! Fish offal, surprising and absolutely delicious! I highly recommend it, one of the highlights of the dinner! ❤️

Fish cheeks slightly caramelized with leeks. Excellent!

A whole fish with spices, it was exquisite!

A beef filet cooked on the plancha in front of us. It was delicious and very tender. This was an extra ordered by my friend Jennifer, who absolutely wanted us to taste it. Thank you Jennifer! 😘

Followed by a skewer of crispy chicken and leeks. Dipped in the egg yolk, it was very good.

Rice with pickled ginger, raw fish, and scallions came with miso soup to end the meal. This is how you know the feast is over!

For dessert we had sakura (cherry blossom flowers) ice cream, as it was the season. It was refreshing and light after a wonderful meal.


Kaikaya by the sea

, yes, yes, I recommend! The food is outsanding and the servers are young, dynamic, and always ready to celebrate!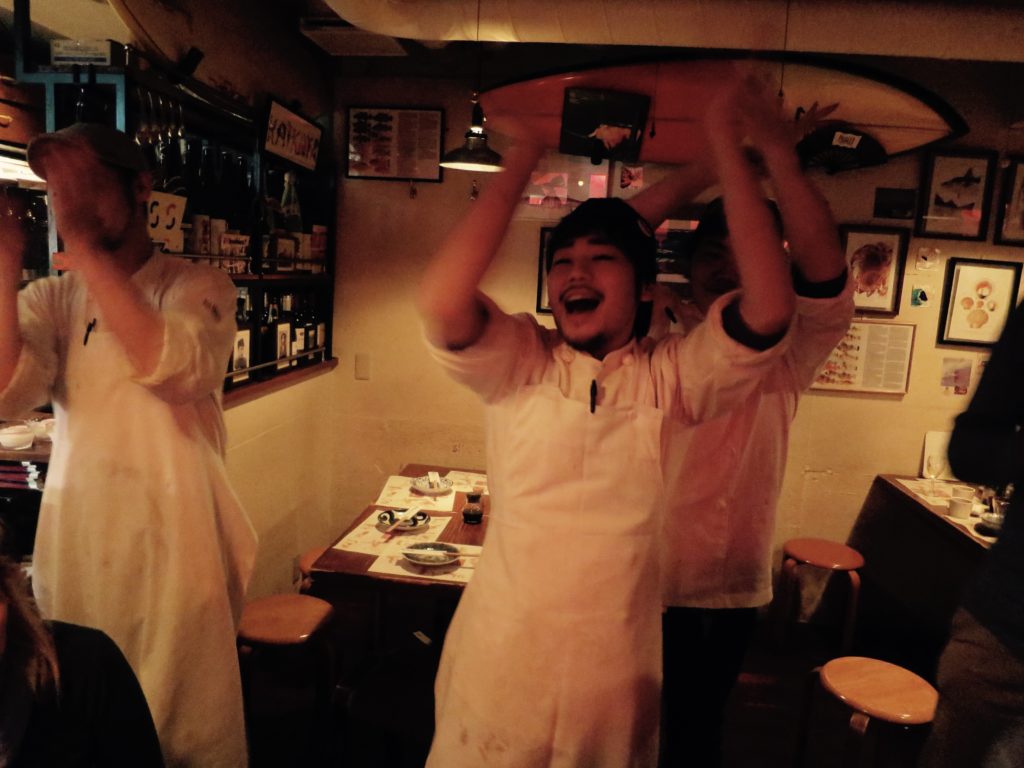 ---
Kaikaya by the sea
23-7 Maruyamacho, Shibuya, Tokyo Prefecture
📞 +81 3-3770-0878