I love

La Dame de Pic

! If I had to open a restaurant myself, I would probably want it just like this. A beautiful and elegant décor, very pleasant stuff, and exquisite cuisine!
I would call it Miss Glore (Do not confuse with Miss Dior)!

I took my husband to dinner on Valentine's Day to this restaurant. We've been there many times. Every time we go, it's a pleasure, one of my favorites in Paris. I discovered it three years ago, when it was newly opened. I read an article about it in a food magazine, Chefs & Saveurs; the review was very positive and the praise toward the owner and chef Anne-Sophie Pic was endless.
Anne-Sophie Pic comes from a family of chefs. She inherited from her father Jaques Pic and before that her grandfather André Pic the three Michelin star restaurant Maison Pic, in Valence, Southeastern France. With hard work and tenacity she earned back the third Michelin star in 1997 that the restaurant had lost at the death of her father in 1992.
She is the fourth female chef to ever win three Michelin stars, and was named the Best Female Chef by The World's 50 Best Restaurants in 2011.
She has also opened Restaurant Anne-Sophie Pic, in Lausanne, Switzerland. It was awarded two Michelin stars in 2009.

La Dame de Pic is a reflection of her personality: very elegant and sober. Brick walls painted in white. White flower-tone frames on the wall. The tables are made of wood with irregular edges, as if they were naturally cut. The chairs are brown and very comfortable. In the middle of the room there is a long host table. The white napkins and tableclothes bring elegance to the white décor. A long flower stem in a white vase decorates each table. The napkin ring is made of paper with a pink rose drawing.

From the street you can see the white kitchen and the team consisting of the chef and five cooks. They are all fairly young and work non-stop. No time to rest or smoke a cigarette on the sidewalk. Yes, this is a very common custom in France!

What I like the most in this restaurant is the atmosphere—very relaxed and casual. The whole team is very young and dynamic. Yet the food is outstanding and of high quality.
There are three menus composed of four dishes and a supplement of cheese. Once your choice is made, you can enjoy the feast for your eyes and palate.

A young sommelier will advise you and match the perfect wine for your dish. By the bottle or by the glass, the selection is a little bit limited, but they have enough to satisfy your taste and your budget.
A nice dinner always starts with a good glass of champagne! And this is exactly what we did; we ordered the champagne brut Billecart-Salmon, customized for Maison Pic.

My husband ordered the "Conte d'hiver" menu and I had the "Découverte florale".
We both started with Red kury squash soup [called in France Potimarron] with clementine. The flavors blended extremely well together.

Then came my hot oysters served with bacon, onion broth, and fondue cheese. Doesn't sound very light but it was a very refined dish. The other appetizer was a cabbage salad with vanilla and bergamote. Quite an interesting mix!


For the fish course, we both had the zander. Mine came with saffron and beets; it was very colorful and attractive. My husband's dish came with carrot emulsion with ginger and carrot mousseline; two totally different approaches for the same fish.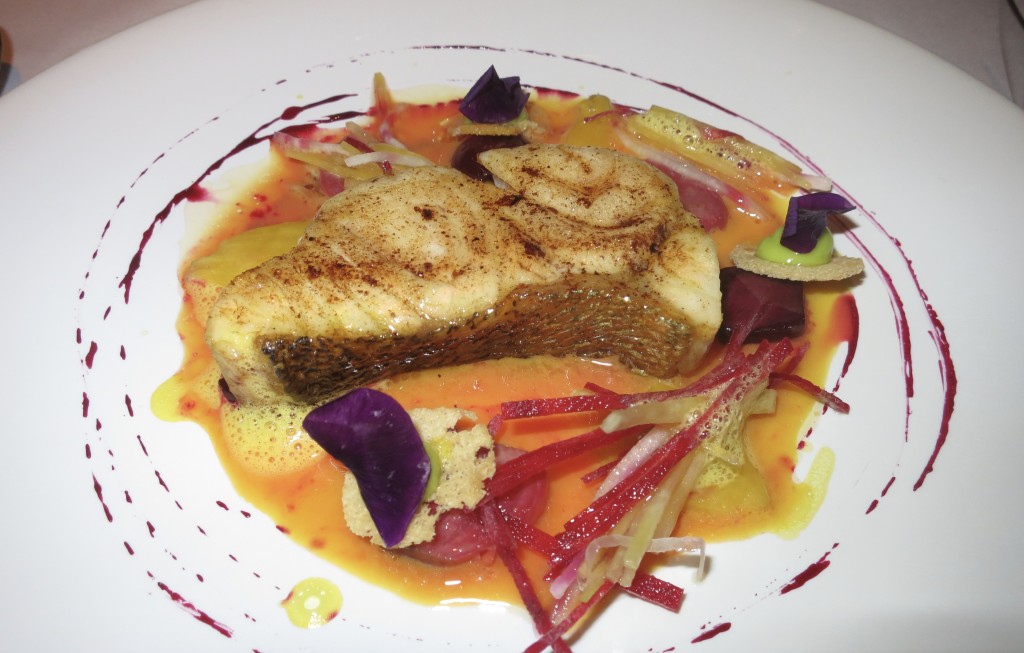 The Saint-Joseph domaine Bernard Gripa matched perfectly well with the appetizers and the fish dish.

Next came the pigeon with radish and turnip for me; it was delicious and cooked to perfection. The cooking of pigeon meat can be tricky. I chose the Beaune 2013 to go with my dish.


My husband had the beef slightly smoked with coffee, served with salsify coffee and tea sobacha. It was very tasty. Although it was beef, the preparation was very creative. Croze Hermitage 2013 was the sommelier's advice and paired very well with the beef.


For dessert, I had the Corsica Clementine with honey tart garnished with turmeric cream and clementine sorbet. Colorful and beautiful, needless to say delicious! It was a wonderful way to end the menu. My husband had the Vacherin, which consisted of French meringue served with exotic fruit and pecan nut with caramel. Look at the picture, isn't it beautiful? It's like a work of art!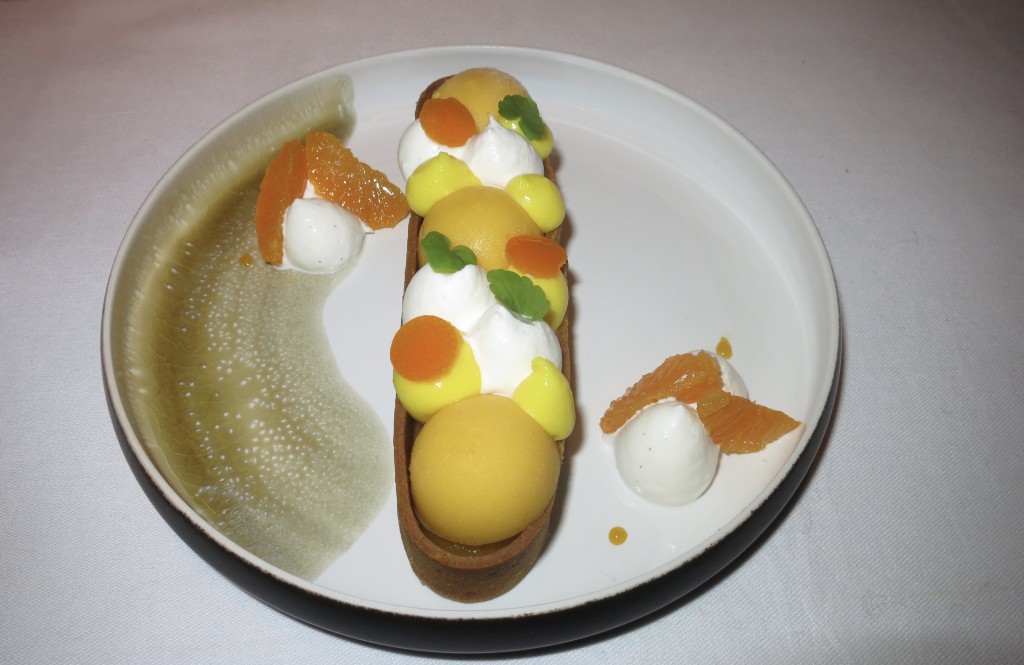 Marshmallow raspberry flavor and chocolate bites ended this perfect evening.

La Dame de Pic is definitely a nice way to celebrate all kind of events.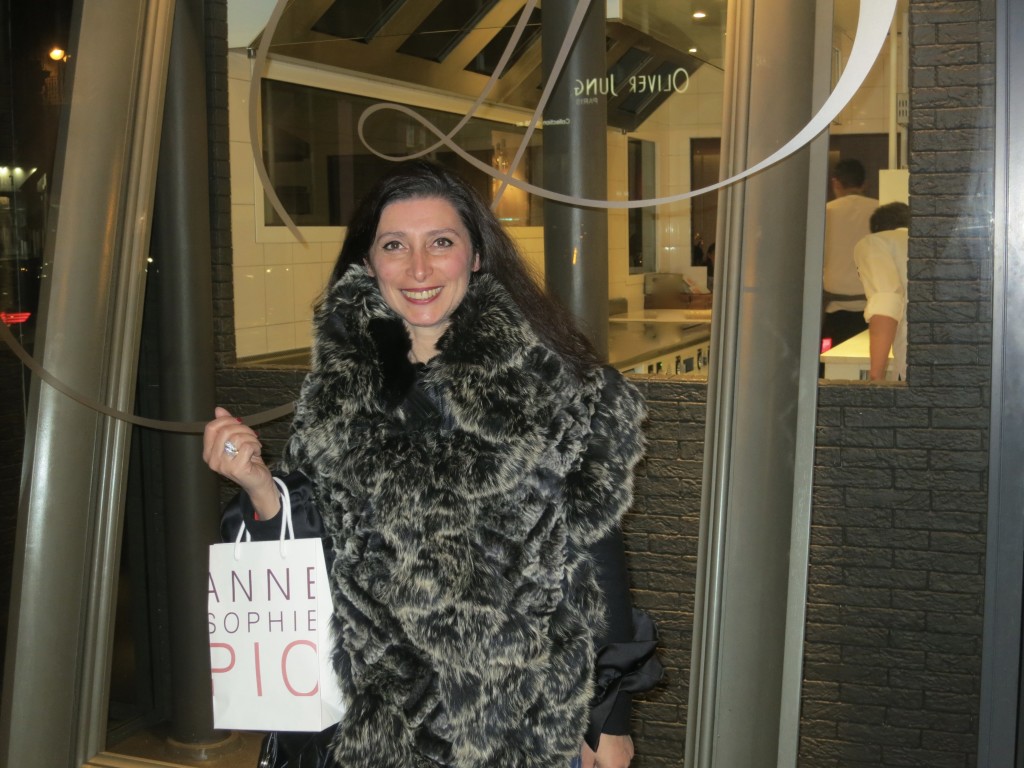 ---