There are tons of chocolate recipes; some of them are very good, some are too sweet, some are too heavy, and this one is, well, this one is mine and it's delicious!
It's a very easy recipe but the key for success is basically the choice of chocolate. I usually (actually always) use the brand Côte d'Or. (This is a free of charge ad.) It's Belgian and for me, it's simply the best. But if you have another brand (70% cocoa) that you use and you like very much, it's fine as well [But please, no Hershey's, ever!] 😀.

This chocolate cake has been my daughter's birthday cake since she is old enough to choose her birthday's menu; Spaghetti and chocolate cake!
---
Prep time: 30 min
Cook time: 20 min
Ingredients

:
6 eggs
200 gr (1 cup) sugar
200 gr (1 cup) butter
200 gr (1/2 lb) dark chocolate (70% cocoa)
120 gr (1/2 cup) Flour
1 Tb Orange flavor
For the icing

:
100 gr (1/4 lb) dark chocolate
100 ml (1/2 cup) Milk
---
Preheat the oven at 400º F.

Beat the eggs with the sugar until they have whitened.

In a sauce pan break the chocolate bar into small pieces and cut the butter in cubes. Melt them on very low heat. Be careful; stir to avoid burning the chocolate, it can happen very quickly.

Add the flour (it's always better to filter with the strainer). Stir until you have a very creamy texture.

Once the chocolate is completely liquid, pour it in the eggs/sugar mix and stir with a whisk until it is completely blended.

Add the orange flavor and stir again.

Pour the mix in a cake pan and place it on the mid-high rack in the pre-heated oven for 20 min. After 15 min, turn the oven off and leave the cake for 5 min. Remove the pan from the oven and cool it down for 10 min and turn it out of the pan.

Once the cake has cooled, prepare the icing. In a bain mari*, melt the chocolate. When it is smooth, pour the milk little by little, while stirring at the same time. Ice the cake and let it cool down.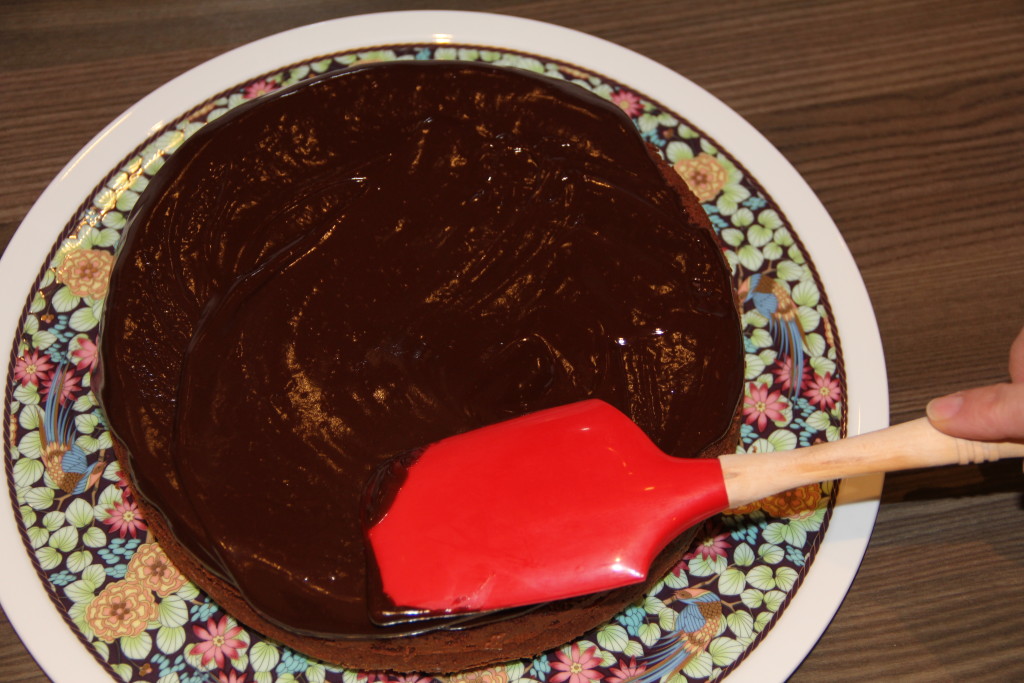 You can serve this cake a bit warm with a scoop of vanilla ice cream. It's absolutely divine!

Enjoy my chocolate cake and don't hesitate ask me questions if you need anything.
*Bain mari: Boil water in a sauce pan and put on top of it a bowl where you will melt the chocolate. You can find specially made double sauce pans in stores.