By Chloe

is a trendy, busy, 100% vegan restaurant, the kind we like to see sprouting up all over town.
It all started with the union of two dynamic young women, Chloe Coscarelli (Chef and cookbook author) and Samantha Wasser (Creative director at ESquared Hopitality) deciding to combine their knowledge and savoir-faire; with hard work and determination, they opened By Chloe in July 2015.
"We saw a need for delicious everyday vegan food and I had always a hard time figuring out where to find it," Coscarelli said in Forbes magazine. "We were inspired by the idea and the opportunity to create a new concept that didn't previously exist," said Wasser.

The success was instantaneous. Six months after the opening of the first By Chloe in NYC in West Village, the duo was already working on two new locations. Unfortunately, before long the partnership split apart with a fight and a lawsuit that forced Coscarelli out of the company. Despite Coscarelli's departure in 2016, By Chloe continues to expand: four restaurants in Manhattan, one in Brooklyn, two in Boston, one in LA, and three future openings.

Everything on the menu is 100% vegan, from the salad to the pasta and even the burgers. The quinoa taco salad and the spicy Thai salad are both excellent and tasty. No doubt, By Chloe uses fresh products. The use of ingredients like seitan (soy product), black beans, tempeh (wheat), almonds, quinoa, edamame, etc make the salad very rich and fulfilling. They are excellent substitutes to meat and include all the protein and minerals a body needs. The portions are generous; I could have easily shared my salad with my daughter.

The meat in the classic burger is replaced by a blend of tempeh-lentil-chia-walnut patty, and in the Guac burger a black bean-quinoa-sweet potato patty is used. No industrial tomato ketchup or mayonnaise – only homemade beet ketchup and sweet potato sauce to dip the fries. The only weak point is the patty's texture, or actually the lack thereof. It's too regular and a bit chewy.

The space is small but there is a constant churn of customers that allows most people to sit down and eat; keep in mind it's basically a fast food-type of restaurant. That being said, you can easily stay to taste some of the sweets, as the décor is quite pleasant and welcoming. I tried the vegan lemon raspberry cupcake and it was really delicious, better than the regular ones.

The chocolate chip cookies were soft and had the right texture and taste. You must be a true chocolate cookie expert to guess they are vegan.

Sweets By Chloe, next to the restaurant on Bleeker street, has a very large variety of cakes and cookies.

By Chloe also sells vegan ice cream, cold-pressed juices, coconut water and even pupcakes for dogs! Bon appétit!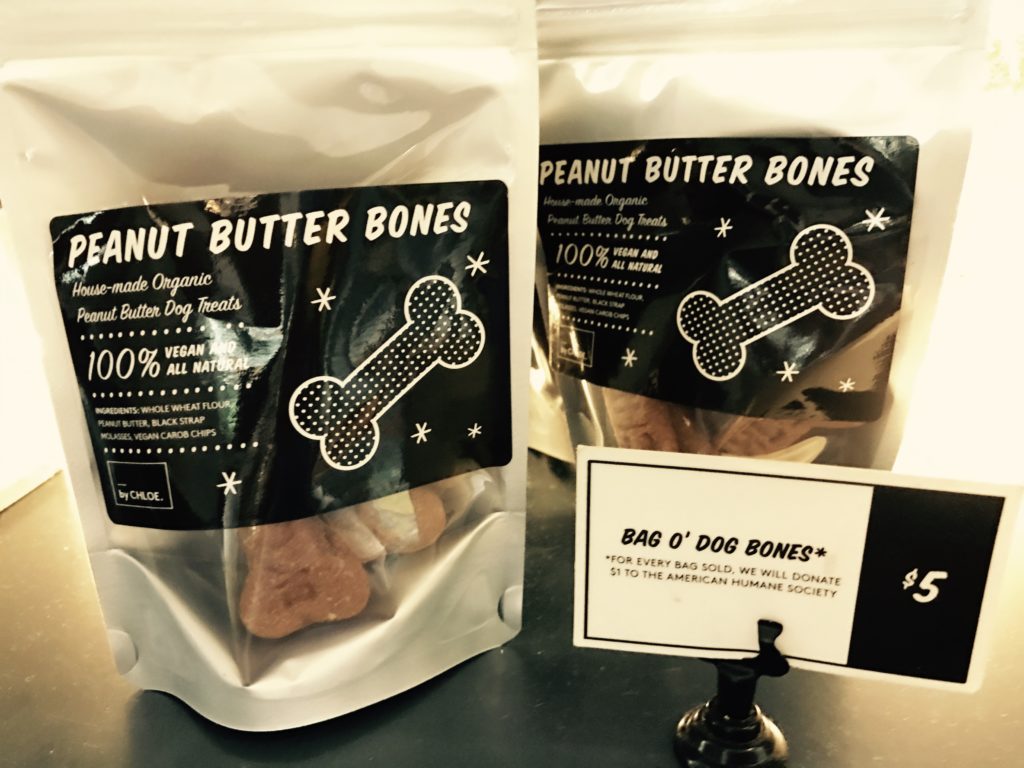 ---
By Chloe
West Village
185 Bleecker Street
New York, NY 10012
Flatiron District
60 West 22nd Street
New York, NY 10010
Soho
240 Lafayette Street
New York, NY 10012
Sweets By Chloe
185 Bleecker Street
New York, NY, United States 10012