Les Ombres should be on your bucket list when visiting Paris. Not so much for the food, as there are many superior choices in
Paris

, but for the view: the restaurant has a spectacular setup!
Les Ombres is located at the top of the Quai Branly museum. You are at the base of the Eiffel Tower and the Eiffel Tower stands majestically in front of you! Glass walls and a glass-domed ceiling surround you with a magnificent view! You don't need to be seated at a specific table to take advantage of the view, no need to fight for THE table at the window as you must in some restaurants. Wherever you are seated, the view is fantastic!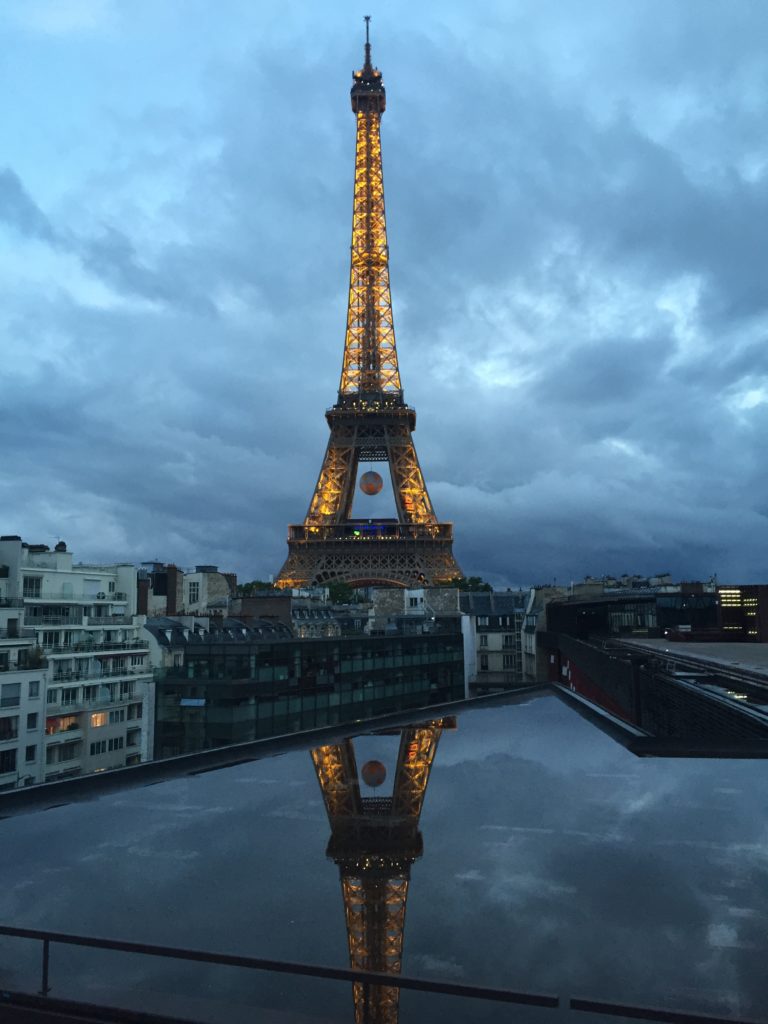 Round, well-spaced tables covered with white tablecloths and garden chairs bring a pleasant feeling of comfort. If you are visiting Paris, or if you have a special occasion to celebrate, Les Ombres is a wonderful place. At lunchtime you can enjoy a great view of Paris combined with that of the Eiffel Tower. At dinnertime you can see the Eiffel Tower shinning and sparkling every hour on the hour.

I will not qualify this restaurant as gastronomic, especially given the price, but when going to Les Ombres you know the view is included in the bill. Don't get me wrong; you can still have a very good meal; the service is very pleasant and the dishes are well presented, but the choice is a little bit limited.
Our dinner started with an amuse-bouche: basil macaroons. Quite surprising!

I ordered the fried soft-boiled egg with chanterelles and Parmesan cheese for my appetizer; it was very tasty and the portion was generous.

Others ordered the crunchy crayfish with cucumber and avocado condiment and cucumber mayonnaise. It was very good as well.

The main dish of comfit lamb shoulder served with fennel, cucumber, green peas and pak choï cabbage was nicely presented. It was definitely my favorite entrée on the list.

The desserts were the most appealing in my opinion. The pistachio biscuit mousse with strawberry and wild strawberry sorbet was beautifully presented and was excellent, as was the raspberry sorbet with fresh raspberry and meringue.

Coffee comes with a little madeleine with blueberry jam to end the dinner.
Enjoy the view at Les Ombres and don't be shy, take a lot of pictures!!
---
Les Ombres
27 Quai Branly, 75007 Paris
📞 +33(0)1 47 53 68 00