Ever since my boys left home for college, I have loved Sunday's brunch. It's a great way to get the family back together at a very convenient time for everyone! I moved to NY this past summer and I've had the pleasure of brunching and trying out many places. This is my personal ranking from one to ten.
In all the listings below, the $ sign will give you an idea about the price.
This is still one of my favorites.  Located close to Columbia University on the upper west side, this is a truly unexpected gem. Every time I went there the food was very good.

The eggs Benedict are perfectly cooked; the yolk is runny and warm, confined within the egg white. The pancakes are excellent and have the right texture. The service is really nice and the place is very pleasant – all at a very reasonable price. Very traditional American menu, they don't have croissants or pain au chocolat, but rather steak & eggs or sausage biscuit & gravy.

1241 Amsterdam Ave, New York, NY 10027
📞+1 646-820-7735
This one is on the opposite side of NYC, located in Williamsburg. Cow & Clover is also among my favorites.  The farm–like style and décor are really attractive and reflect Brooklyn's trendiness. The caramelized apple-stuffed brioche French toast is a delight.

Great service, very good food; I highly recommend this restaurant combined with a Williamsburg street art tour.

291 Kent Ave, Brooklyn, NY 11249
📞+1 718-782-8810
Located on the west side of Manhattan near the Lincoln Center, Bar Boulud has a very elegant, beautiful decor, which gives the impression of a wine cellar.

We started with the basket of croissant, pain au chocolat and Danish pastry: they were excellent! Warm, crispy, and fluffy at the same time; a real treat for former Parisians! The French toasts and waffles were very tasty and elaborate. As a plus, excellent coffee with unlimited refills!

My son ordered the frenchie burger, which wasn't as good as expected. A little bit dry, not enough tomato compote, and a bit salty. Some fresh tomatoes and lettuce would've been a good addition. The French fries were very good, although a bit salty for me. Great service and an enjoyable experience!
Price range: $$$
1900 Broadway, New York, NY 10023
📞+1 212-595-0303
I'm preparing a full blog post about this restaurant, because the story of chef Antoine Westermann is worth mentioning. In the meantime, the menu here is more suited for lunch and dinner and is based on everything related to poultry.

For brunch: there is the section "Eggz" with omelets and scrambled eggs, as well as the Viennoiserie basket: a selection of croissant, brioche, pain au chocolat, and scone served with jam and butter.

When I had the first bite of the croissant, my taste buds were exhilarated and my mind traveled 3625 miles (5834 km) back to Paris for a few seconds. That croissant was unforgettable!
Price range: $$$$
30 E 20th St, New York, NY 10003
📞+1 212-267-7426
An Italian restaurant just behind the Whitney museum at the start of the high line. The setting is very charming; the décor evokes a winter garden with tables made of teak wood and white marble and big exotic plants from the south.

The pastry basket was very good and generous. Six big pieces of Italian bakery served with Nutella and fig jam. The scrambled eggs with spicy potatoes were very tasty. The Pannetone French toast with banana and orange was delicious and had an Italian flavor.

Overall, it was amazing – and so was the check!
Price range: $$$$
820 Washington St, New York, NY 10014
📞+1 212-254-3000
Selection of assorted pastries and bread, Croque Madame, Lemon pancakes with fresh berries, smoked salmon Benedict with brioche, it all sounded very good, and it was very good. Lafayette is a beautiful French-style brasserie in Noho with a French bakery at the entrance.

It's a very pleasant and inviting place with very good service. I could rank it a little bit higher but it was a bit too pricey I must say.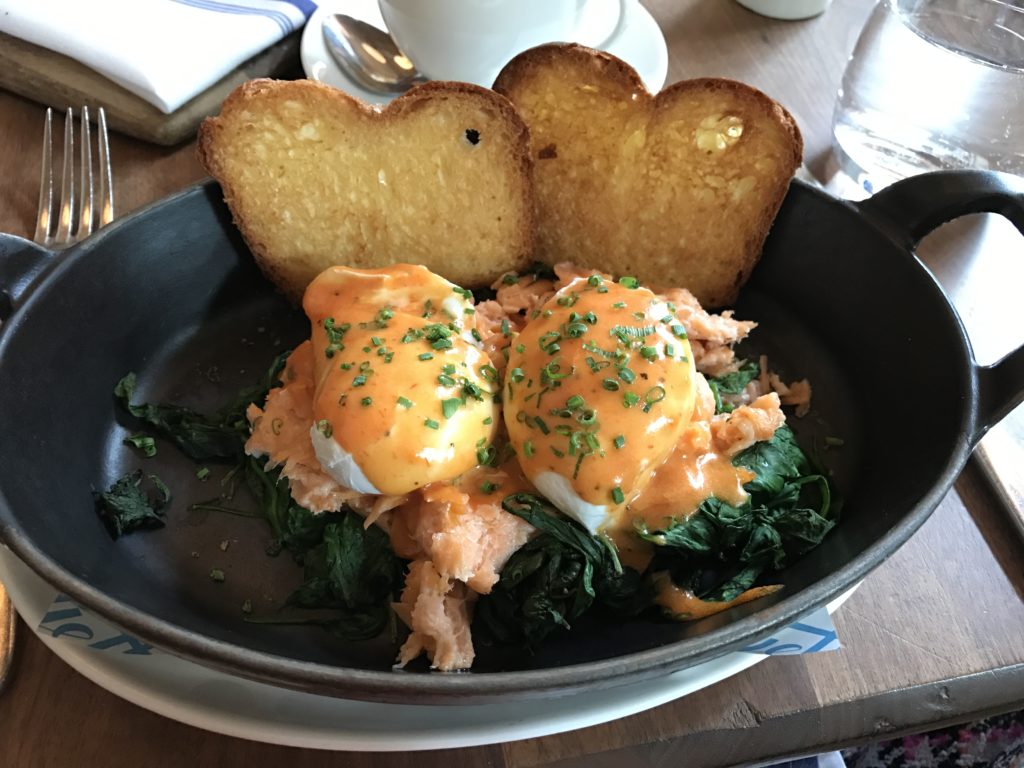 Price range: $$$$
380 Lafayette St, New York, NY 10003
+1 212-533-3000
Upland is an Italian-style restaurant located in Murray hill. The combination of oak wood and dark green leather and fabric creates a very warm atmosphere in the restaurant. The bar at the entrance gives a very trendy touch. The service was very good, although our server was like a colonel at the army, stiff but efficient.

The pastry basket was a mix of sweet and salty and everything in it was very tasty.

The eggs Benedict were very good and the eggs were runny like poached eggs should be. The quiche Lorraine was creamy and moist, and the crust was crispy. The pancakes were okay but not spectacular, a little bit too cooked and the portion was small; lastly, the scrambled eggs were average. In a nutshell, it's a very nice setting, but don't expect a flawless brunch.
Price range: $$
345 Park Ave S, New York, NY 10010
📞+1 212-686-1006 
Great location near Washington Square Park, beautiful interior, very pleasant and catchy; Café Clover has a lot of the ingredients for success, but they should change their team in the kitchen.

The crispy flat bread with smoked salmon to share was the highlight of our meal. As we started with it, we put our expectations quite high. Unfortunately, the rest of the meal came up short. The eggs Benedict were too cooked, and the scrambled eggs were dry. The menu was quite innovative with the chickpea flour sweet potato waffle and the quinoa pancakes. It could've been a hit but it too was overcooked and dry.

It was a bit disappointing as the setting was really attractive and our server was super nice.
Price range: $$
10 Downing St, New York, NY 10014
📞+1 212-675-4350
Good is a contemporary American-style restaurant in Greenwich Village with beautiful décor. The setting is comfortable and very pleasant. I didn't blog on this restaurant because the food was not up to our expectations. The omelet with mushrooms and spinach was good, but we were expecting a bit more, as they add fresh ricotta.

The Lemon ricotta pancakes and the buttermilk pancakes didn't reveal anything exceptional, and the banana cream cheese was too rich and sweet. It's too bad because it's a welcoming place and they have an outdoor terrace where you can sit if you are a party of two to four.

Price range: $$
89 Greenwich Ave, New York, NY 10014
📞+1 212-691-8080
Supper is an Italian restaurant located in Alphabet City. It has a cozy décor and the crowd is rather laidback. The menu was handwritten with colors and drawings, creating a "peace and love" style.

The food was fine but nothing all that impressive. It has good reviews but maybe it wasn't our day. We tried the eggs Benedict, the organic pancakes, the grilled polenta & poached eggs, and Molly's French toasts. Nothing stood out and nothing really left us with great memories.

Price range: $
156 E 2nd St, New York, NY 10009
📞+1 212-477-7600