Cosme

, in the Flatiron District, is the place where you eat the most sophisticated and creative Mexican food.
Chef Enrique Olvera creates dishes based on traditional Mexican food while using local ingredients and incorporating them in his recipes. The result is very refined and tasty. The presentation of each meal is beautiful and makes you want to dig right in.
The restaurant is quite big but it's still difficult to get a reservation. You have to plan in advance. Although all the tables are occupied, you don't feel like you are surrounded by lots of people. The tables are quite separated from each other, which gives you privacy.
The restaurant is animated, but not too loud like you sometimes (very often) have in NYC. The light is muted but each table has its own lightning. You can see very clearly what you are eating and yet have a cozy atmosphere.
We ordered the sliced raw striped bass. It was a very high quality of fish that melted in your mouth and had the right amount of spices. It was very good.

Then came the Tlayuda, a wonderful salad with black garbanzo, stracciatella, and avocado on a bed of tortilla.

The roasted eggplant and cauliflower with sesame seed salsa and with its tacos was absolutely delicious. The taco with sea urchin on a bed of avocado with a hint of cilantro was divine.

As for the main dish, we ordered the crispy octopus…crispy on the outside and soft inside. It was cooked to perfection, and came with a salsa verde that brought an elegant hint of spice.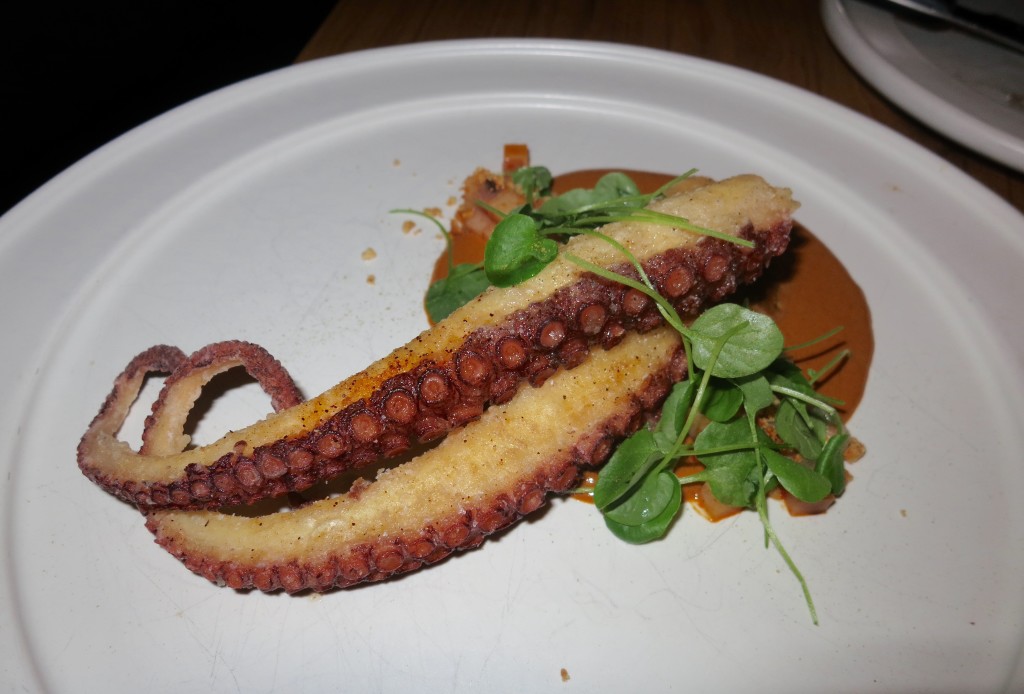 We didn't order the duck carnitas, but it's definitely my choice next time I go. It was for sure a big hit, as many people were ordering this dish.
Chef Olvera is a very creative and ambitious chef. He made the restaurant

Cosme

a very attractive and pleasant experience.
---
Cosme
35 E 21st street, NY, New York
📞212-913-9659